Goonie Musings: Edmonton, if we don't participate we don't exist
"If we don't participate we don't exist."
That's been our earworm since the weekend, those words, over and over. In the original voice, promoting open mic attendance, and echoed in several others during the past week, including Ryan Jespersen and Dave Chappelle's, Leo Martinez and Kat Zel's.
If we don't participate we don't exist.
The days are getting shorter. The nights are getting shorter too. First came the 10 p.m. edict, now, rather than a full-blown shutdown Alberta's new COVID restrictions (25 per cent capacity and a live entertainment ban) essentially strapped a pair of Doc Martens on and Lui Passagliad Edmonton's bars and restaurants right in the passaglias. They also left local musicians — who were already bouncing pillar to post, pinball wizards in an ever-tilting world — without a place to perform.
"My job as an artist is to reflect my world, to keep history," guitarist Paul Steffes told us at the tail end of summer. "When we look back at our time years from now, the artists and musicians will inform people about this time."
They fell silent this week, swept off stages around the City of Champions as COVID cases soar. And attendees who once risked only their livers now risk their lives, as well as reputations and relationships in a strange twist of virus-shaming and social media side-eye that's certain to get worse as gatherings retreat underground.
We've been greedily hoarding our memories lately, filing them away as they happen to savour ourselves rather than sharing for public consumption — bright spots in gloomy days.
Like 100 mile house transmitting emotion through Le Cité Francophone's human aquarium, providing a perfect date night that drew tears of all kinds and gratitude for the get-together. (Word came down yesterday that Café Bicyclette is packing it in until spring. Here's hoping they reopen to a better, brighter world come cycling season.)
Or the following night at Blues on Whyte, when Leo Martinez tore the sparsely-crowded place apart with a stirring performance. Playing behind Plexiglas, he saved the best for last, following Rising Up with Leonard Cohen's Hallelujah.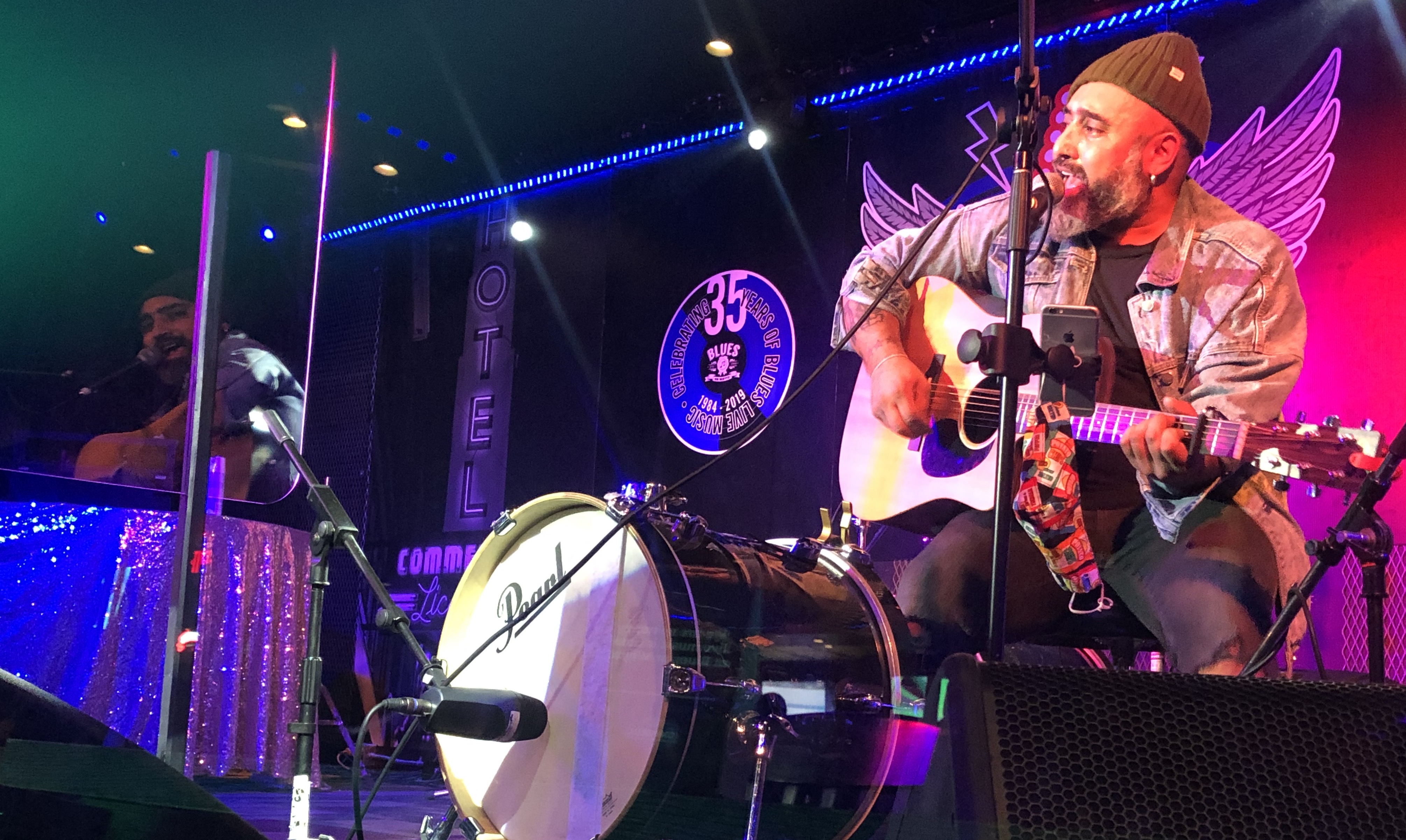 Leo Martinez performed at Blues on Whyte Nov. 14. Ryan Garner/Edmonton Goonie
Or last weekend at River City Revival House — Kat Zel finishing a full day of performances with a talented flourish before Gregos Matthews capped the night with a frenetic keep-the-rock-alive finale that featured Steffes, Jarret Gray's fiddle and Zach Semanuik's trumpet, among others. It called those familiar words back to us.
If we don't participate we don't exist.
Many venues and establishments won't for much longer, unfortunately. To both their benefit and bereftment regulars mostly fill the place. And when one of them catches COVID or decides to stay home their absence extends further than an empty table or barstool. It causes fear for their safety, and our own. It means reduced shifts and strained budgets. Tough choices on several fronts, not only personal and professional, but fiscal and fatal.
Because the threat is real. People don't ask if we know anyone who's had it anymore. Chances are we know at least one person, perhaps many more, who've been affected by the virus. We also have family members struggling with health issues and friends awaiting surgeries that may never come, which makes it hard to actively promote events and encourage attendance, increasing the risk during such a precarious time.
COVID restrictions have turned the Goonie's Edmonton Events list into a massive shoulder shrug, so rather than push event coverage or seek out sponsorships we'll take a step back and focus on local features and album reviews, ask some questions and start up a few columns.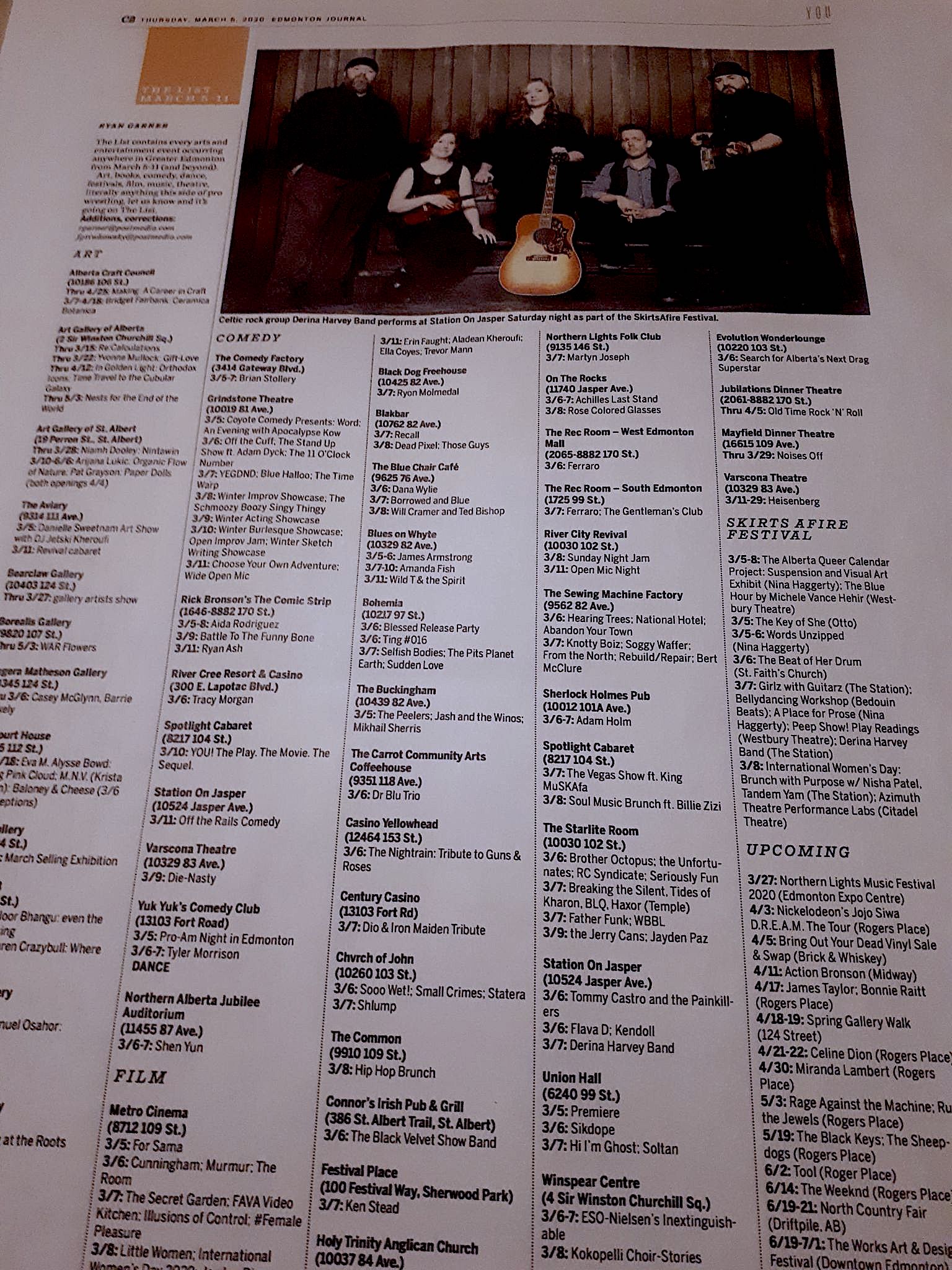 The Edmonton Journal's events list the week of March 5-11, 2020. Ryan Garner/Edmonton Goonie
Even without events happening there are plenty of ways to participate and support local talent while we await the day the shows must go on. Because they will. And when events are filling our concert halls and chuckle huts we'll let you know, offering up a massive map of unburied treasure for the taking.
For now, stay safe and be well. We're taking off to the mountains for a few days and plan to return to a very different world on Monday. We hope you'll join us then, because if we don't participate we don't exist, and Goonies never say die.