Sweet smells, sweeter sounds: Dana Wylie serves up applause-worthy Remembrance Day show at Holy Trinity
By Ryan Garner
Edmonton Goonie
If you're anything like us (and we assume you are) there's always one song at a concert you anticipate hearing more than any other.
It could be Simple Man at a Lynyrd Skynyrd show, Hot Dog Stand under Begonia's spell, or The Night We Met when Lord Huron comes to town, but missing that one memorable tune would qualify as a personal crime against your own music-loving humanity.
So it's a good thing we showed up on time for Dana Wylie's concert at Holy Trinity Anglican Church on Wednesday afternoon for the first of two shows accompanied by Kirsten Elliott on flute.
The singer-songwriter opened with The Earth That You're Made Of, and we wouldn't have forgiven ourselves for missing it. In fact, everyone needs to hear it, either live or otherwise.
The song contains universal truths, delivered against a sonic backdrop that demands repeated listens. It also showcases Wylie's strengths as one of Edmonton's most ingenious songwriters and impressive vocalists.
If you doubt those claims try reading the lyrics as you listen along, then marvel at how she can piece that poetry together in such a pleasing package. And while we're no Audrey Ochoa, hearing it almost made us wish we had packed a trombone along to help build on the beauty. Thankfully Wylie and Elliott didn't need any assistance.
https://www.youtube.com/watch?v=XHeZGFhPTe4

We tripped over to the Cheshire Chats Open Mic on Monday, and if that gathering had the feel of a testimony meeting Wednesday's event had the look of one, seated in Holy Trinity's ornate surroundings.
Prior to the show, Community Concert Series organizer John Armstrong apologized for the "cruel" smell of cinnamon buns wafting into the chapel, courtesy of TYP TOP Bakery renting out Holy Trinity's kitchen. It was soon forgotten, replaced by the duo's sweet sounds.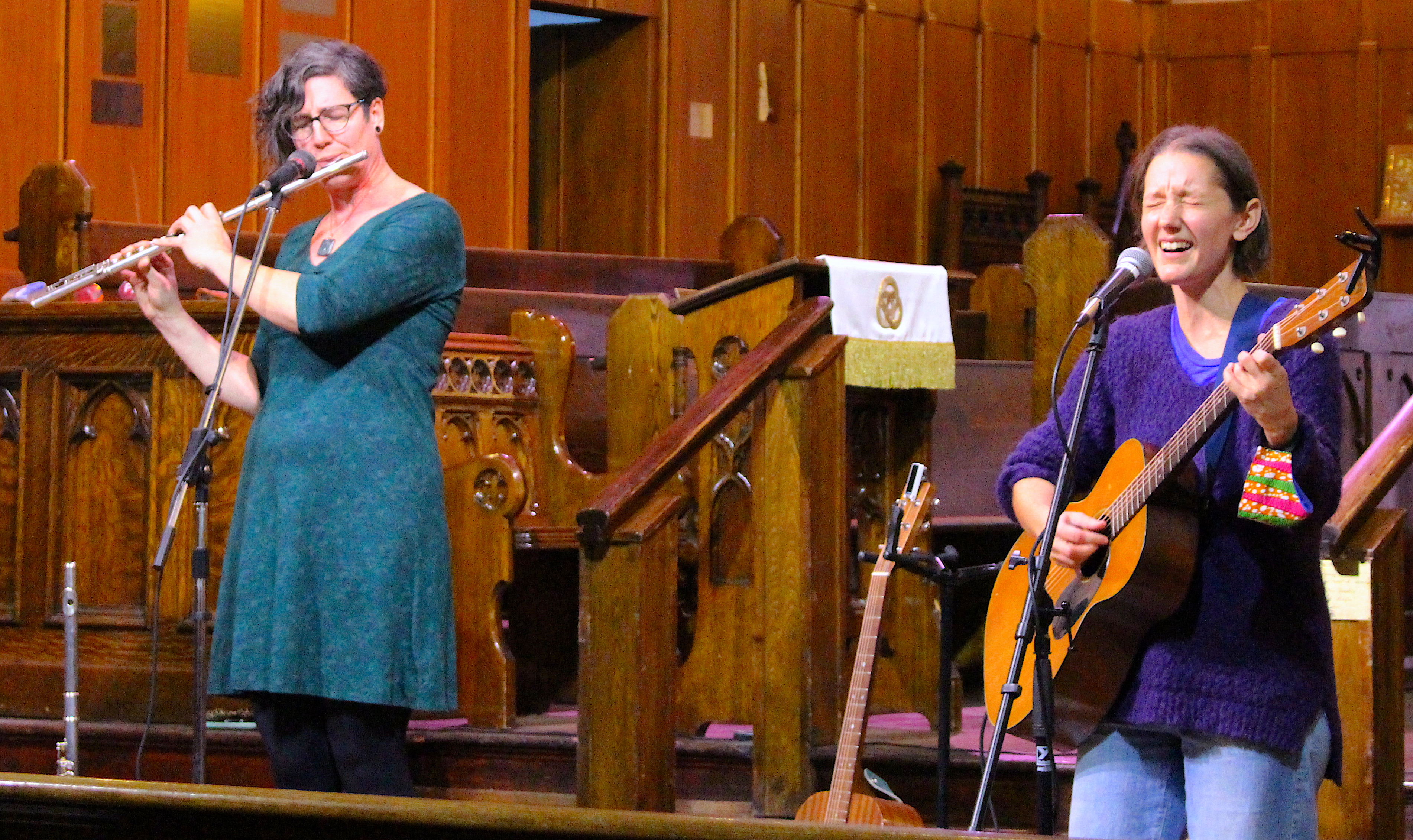 Dana Wiley (right) and Kirsten Elliott performed at Holy Trinity Anglican Church as part of the Community Concert Series on Wednesday. Ryan Garner/Edmonton Goonie
Noting a recent rash of forgot-my-mask dreams and that she had been "ensconced in single parenthood," Wiley followed up The Earth That You're Made Of (seriously folks, give it a listen) with a cover of Lana Gilday's Reconcile. The number was aided by Elliott's careful flourishes on the flute, warming the heart and pleasing the ear during a somber, chilly afternoon.
Chatting freely between tunes, the singer said "vulnerability and strength are two diametrically opposed things" that share a commonality, noting that a woman is never more open than during childbirth, while at the same time being frightened in that moment by her own strength. It was a fitting intro to Cry Out, a song about "crying for vulnerability."
Leading into Defining Grace, Wiley told a story about working with an Anglican pastor on music for an Easter service years ago, and learning about the concept of grace during their one lesson together. The singer noted the song is still a work in progress, so if she screwed up "you will be forgiven," Elliott interjected. "Grace will be forthcoming for sure," the singer laughed.
A cover of Eric Bogle's No Man's Land (also known as The Green Fields of France) paid tribute to the fallen we honour on Remembrance Day. Then came a song from Wiley's forthcoming album How Much Muscle, expected to be released in December, called How Much Muscle It Takes to Fly, which caught our ears for its wondrous melody and poignant lyrics, including the line "how much labour it takes to love."
"I've only ever done this song opening a show," the singer said before Hallelujah Leonard Cohen Hallelujah, also known as A Cure for Madness (Addressed to Leonard Cohen), which made us even more grateful for having arrived on time.
She closed the show with Untroubled One, leaving listeners with the line "I will try to keep those hands free from the heartache that I hold untroubled one, cause you lighten the load, untroubled one."
The Community Concert Series continues at Holy Trinity Anglican Church this weekend, with Kimberley MacGregor and Elliot Thomas performing Saturday at 7 p.m. and 9 p.m., while Kevin Cook and Cam Neufeld take the stage Sunday for shows at 7 p.m. and 9 p.m. For ticket information visit brassmonkeyarts.com.
Wiley and Elliott delivered a tough act to follow and a wonderful hour of music on a Remembrance Day unlike any other. And after years attending Sunday service it always feels strange applauding in a church, but rarely more deserving.