The most open mic in town: Cheshire Chats Open Mic reflects the best of Edmonton's arts community
By Ryan Garner
"That felt really good."
The sentiment was repeated often Monday night at Spotlight Cabaret during the Cheshire Chats Open Mic Poetry Nite.
Billed as "the most open mic in town," the event has developed a faithful following, encouraging one and all to share poetry, spoken word, freestyle rap, music, comedy, karaoke, or anything else they can dream up for a five-minute stint during the weekly celebration of words.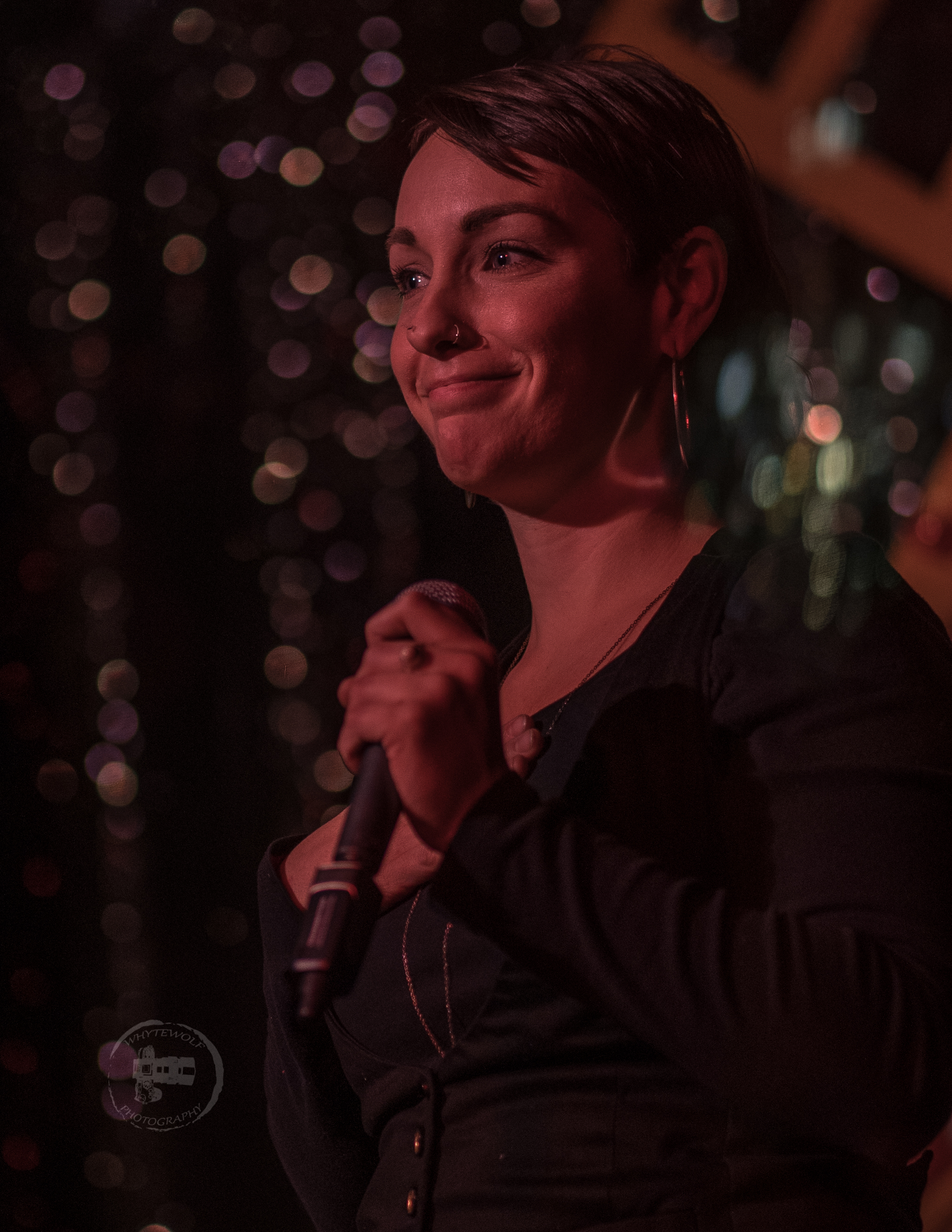 Michelle Newlands co-hosted the Cheshire Chats Open Mic at Spotlight Cabaret on Monday. Richard Pearce/Whyte Wolf Photography
Little nuggets stood out, including a self-love poem that included the line "I love you like Kanye loves Kanye, but not really because nobody loves like Kanye loves Kanye," a high-energy karaoke rendition of James Brown's I Feel Good by Cheshire Productions co-founder Jeff Lucas, and Cheshire regular Nineca's mesmerizing cover of Dolly Parton's Jolene.
An impromptu YMCA (the ultimate song for chair dancing) welcomed guitar player Daniel Musashi to the stage. He noted being inspired by a Taiwanese teenage ukulele prodigy named Feng E, reinforcing the fact we learn by doing and aim to emulate that which inspires.
A singer-songwriter who performs as Wizeguy (aka James Wing) shared a song called God Exists — releasing it on Spotify this Friday — with the lines "If God exists is he planning an apocalypse to put an end to all of this awfulness? If God exists do I have to take a side when I'm sitting on the fence?" He closed with an improvised 30-seconds-left song that left the crowd laughing.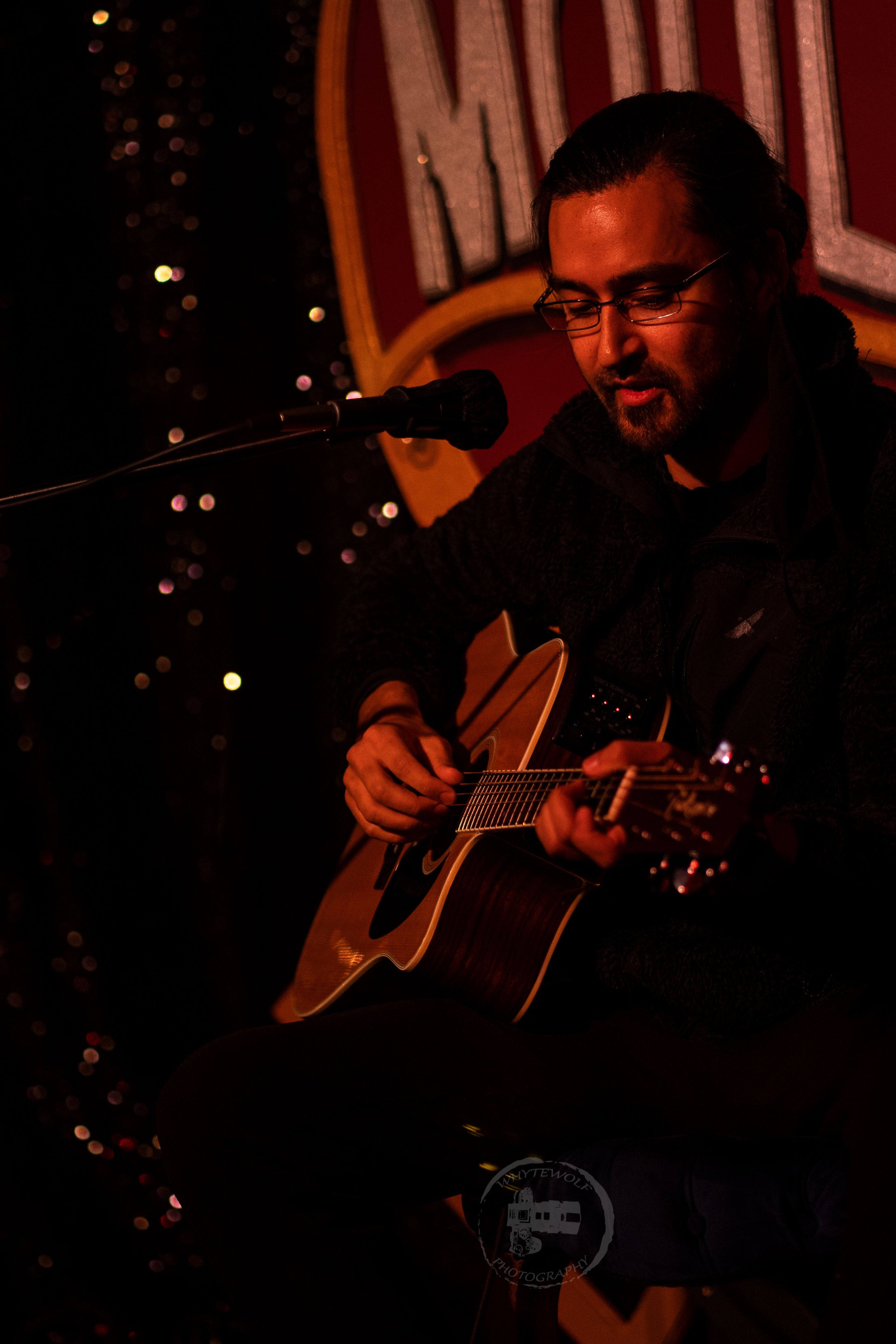 Daniel Misashi performed at the Cheshire Chats Open Mic at Spotlight Cabaret on Monday. Richard Pearce/Whyte Wolf Photography

Freestyler Avery Beck injected humour into his act with co-host Michael Ortiz beatboxing, delivering clever quips about random topics snow, bananas, forks and nostrils before inviting attendees to his online workshop, Inviting Play, running Nov. 21.
Cheshire Chats regular Evan shared a poem stemming from his eight-year-old ride on the 26-metre-tall Sky Screamer at West Edmonton Mall, and being far cooler than his "loser cousin" for taking the plunge. And we had the lyrics "Costco, Casio, here we go," running through our head all night after some impressive lyric-spitting.
A random question was posed by hosts Ortiz and Michelle Newlands after each performance, and the Costco-Casio lyricist was asked if he had ever been pulled over by the police. He said he had, for speeding, by one of the officers who was later shot and killed in Mayerthorpe. The words hung in the air for a moment of recognition, producing one of the night's most profound moments.
The saddest came minutes later, from a woman who had never shared her poetry before but instantly welled up while dredging up darkness in poetic form. We couldn't help but cry; all of us. That's the power of poetry — pent-up emotions unleashed for public consumption, raw and unvarnished.
"That felt really good," the poet responded when asked by Newlands, and the co-host noted how the event was designed for sharing, no matter what shade it takes.
"Look around the room to the other beings who by chance or by fate decided to be here," Newlands said, before promising a stage sturdy enough to support the truths brought to it.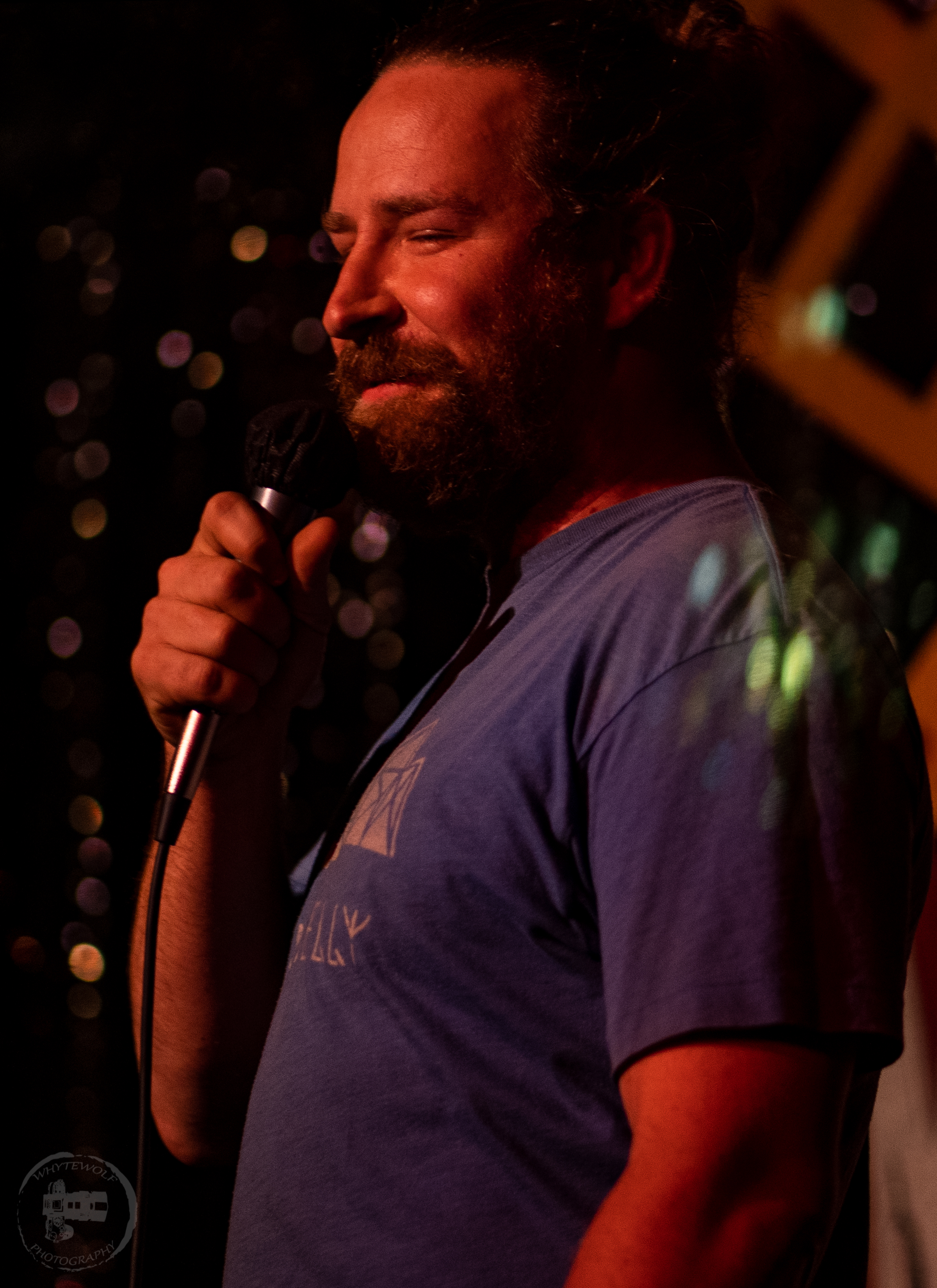 Cheshire Productions co-founder Jeff Lucas performed at he Open Mic Poetry Nite at Spotlight Cabaret on Monday. Richard Pearce/Whyte Wolf Photography

Nearly each of the baker's-dozen-or-so participants who took that stage expressed gratitude for it, explaining what Cheshire Chats meant to them, how it had given them strength or solace by either sharing their words or hearing others. That felt really good, in every instance. And it's a testament to Edmonton's arts community, Cheshire Productions and the Spotlight Cabaret that the loudest applause belonged to those who noted it was their first time performing.
"Not only am I able to be loud but it is welcomed and encouraged," one performer said.
A first-timer named Kelly in a Yankees cap shared a cover of Bon Iver's Skinny Love, delivering a fist pump at the end of her performance that assured she'll return to the stage. And then she confirmed it to Newlands, with the co-host once again reading the room and delivering the right question for the moment.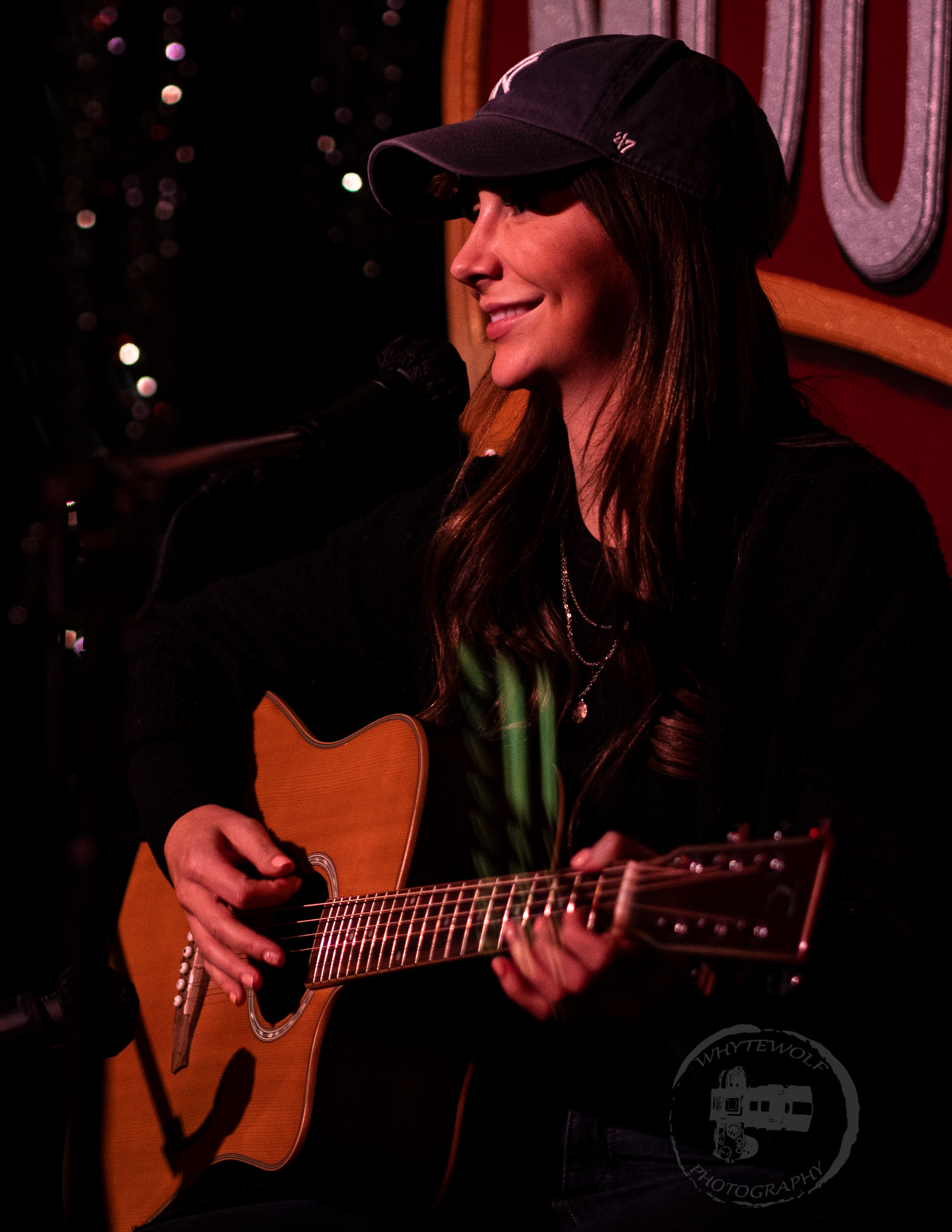 First-time performer Kelly played the Cheshire Chats Open Mic at Spotlight Cabaret on Monday. Richard Pearce/Whyte Wolf Photography

Of course, not everything felt good. The crowd cracked up when Newlands asked Kit-Kat, a first-time poet, how it felt, and she responded with a dry-heaving "blech."
Sky Screamer. Mayerthorpe. Joey Moss. Alex Trebek. Kanye. The night contained terms in our cultural shorthand both local and far-flung, but each brought the attendees closer together. And that's what Cheshire Chats has done since COVID arrived, with the group's Facebook page swelling from approximately 300 members to more than 1,100 during the last eight months, encouraging others to join and share.
And as we departed into the snowy evening there was only one thing to say: That felt really good.